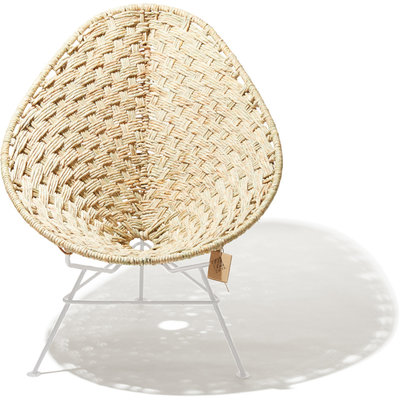 Acapulco Chair Tule, White Frame
Unique Acapulco chair hand woven with special reed called tule. Natural, beautiful and durable! ...
More information
Article number:

ACA/TOL/WF

Availability:

Order now and receive your order upon the arrival of the next container from Mexico!
---
*All prices are in USD
---
Comfort: The seat of this Acapulco Tule chair is hand-woven with reed. The seat is flexible and firm at the same time. The chair can be used without a pillow.
Material: The seat is completely hand-woven with locally obtained natural reed (Schoenoplectus acutus). The base is made of galvanized and powder coated steel. 
Delivery: We ship to individuals or companies across the U.S.
Special conditions apply on orders of 10 or more chairs. Contact [email protected]
Maintenance: Clean with water, soap and a soft brush. Store in a dry place or cover against rain. If the chair is wet, we recommend that you first allow the chair to dry before covering.
*Important: The chair can be used outdoors, but for long-term use we advise the chair to be stored inside and kept dry. 
Dimensions Acapulco: 30"/35"/42" (width/height/depth) 75/88/106cm
Weight Acapulco: 18 lbs (8,3kg)
Seat height Acapulco: 15" (37cm)