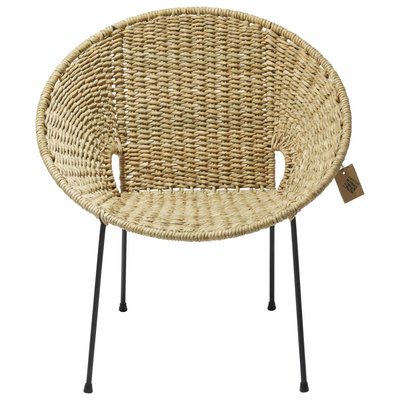 Luna Dining Chair Tule, With Natural Reed
Hand-woven chair made in Mexico with natural reed. Durable design for years of maintenance free use. ...
More information
Article number:

LUN/TOL

Availability:

Order now and receive your order upon the arrival of the next container from Mexico!

Delivery time:

email us please
---
*All prices are in USD
---
Our Luna chair is hand woven with natural reed (Tule). The reed is durable, perfect for long-term use and gives a soft and comfortable feel to your body.
The Luna chair is versatile - can be used as a dining room chair or as garden furniture on your terrace (however, please keep it dry).
Available on request in many colors.
Materials: The seat is completely hand-woven with locally obtained natural reed (Schoenoplectus acutus). The base is made of galvanized and powder coated steel. 
Dimensions: 28"/30"/22" (width/height/depth) 72/75/55 cm
Seat height: 15 " (38 cm)
Weight: 13lbs (6 kg)
Maintenance: Clean with a soft brush. Store in a dry place or cover against rain. If the chair gets wet, we recommend that you first allow the chair to dry before covering.
*Important: The chair can be moderately used outdoors, but for long-term use we advise the chair to be stored inside and kept dry. 
Dimensions Luna chair: 28"/30"/22" (width/height/depth) 72/75/55 cm
Weight Luna chair: 13lbs (6 kg)
Seat height Luna chair: 15" (38 cm)