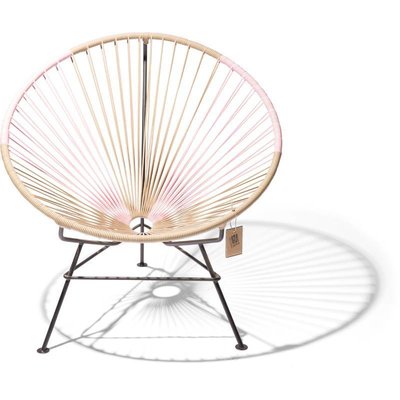 Condesa Chair Bicolor Beige & Pastel Pink
The same quality as the Acapulco chair, but with a more circular shape.
Solid welded galvanized steel frame with powder coating.
Seat made of hand woven UV filtered recyclable PVC.
Suitable for indoor & outdoor use. ...
More information
Article number:

CON/SC1/SP

Availability:

Order now and receive your order upon the arrival of the next container from Mexico!

Delivery time:

email us please
---
*All prices are in USD
---
Comfort:
All our Condesa chairs are hand-woven with comfortable PVC cords with "memory", so that the seat forms itself to your body and returns to its original shape after use.
Materials:
This original Condesa chair is made with recycled PVC as much as possible. It is resistant to sunlight, contains antioxidants and is free of phthalates. This not only ensures that the seat is less harmful to our environment, but also makes it suitable for both indoor and outdoor use!
Delivery: We ship to individuals or companies across the U.S.
Special conditions apply on orders of 10 or more chairs. Contact [email protected]
Maintenance: Our Condesa chairs have a guaranteed quality and durability, because of the welded frame with galvanized solid steel structure with electrostatic coating and the seat made of high quality hand-woven recycled PVC. The chairs are suitable for years of use both indoors and outdoors without any special maintenance. Clean it with water and a little soap and dry with a soft cloth.
Dimensions Condesa chair: 32"/31"/30" (width/height/depth) 80/79/76 cm
Weight Condesa chair: 18 lbs (8 kg)
Seat height Condesa: 17" (43 cm)