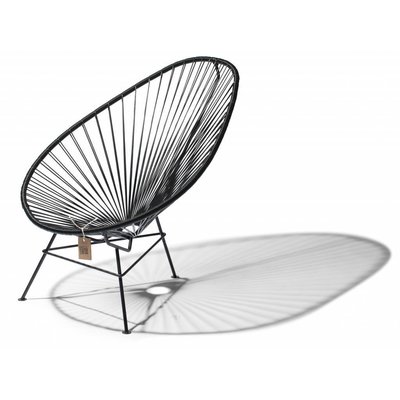 Acapulco Kids Chair in Black (Made w/ Recycled PVC)
Specially designed for small children! Acapulco Baby/Kids Chair. Child-size version of the Acapulco Chair. ...
More information
Article number:

ACA/BB/NG

Availability:

Order now and receive your order upon the arrival of the next container from Mexico!

Delivery time:

email us please
---
*All prices are in USD
---
Comfortable, modern and entertaining!
Comfort: Because of the smooth round curves the baby chairs are perfect for children to enjoy and play.
Materials: This baby Acapulco chair is made with recycled PVC as much as possible. It is resistant to sunlight, contains antioxidants and is free of phthalates.
Delivery: We ship to individuals or companies across the U.S.
Special conditions apply on orders of 10 or more chairs. Contact [email protected]
Maintenance: Our Acapulco chairs have a guaranteed quality and durability, because of the welded frame with galvanized solid steel structure with electrostatic coating and the seat made of high quality hand-woven recycled PVC. The chairs are suitable for years of use both indoors and outdoors without any special maintenance.
Clean it with water and a little soap and dry with a soft cloth.
Dimensions baby Acapulco: 21"/23"/28" (width/height/depth) 54/59/71 cm
Weight baby Acapulco: 9 lbs (4 kg)
Seat height baby Acapulco: 13" (33 cm)