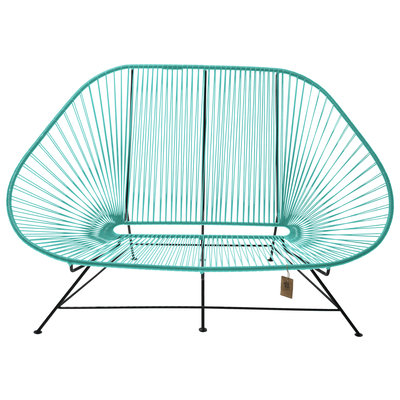 Acapulco Sofa in Turquoise, Suitable for 2-3 People
Enjoy twice as much in this original Acapulco 2 Seater Sofa! Spacious enough for 2 to 3 adults and ideal for outside. Can stay outside all year round! ...
More information
Article number:

ACA/2S/SA1

Availability:

Order now and receive your order upon the arrival of the next container from Mexico!

Delivery time:

email us please
---
*All prices are in USD
---
Comfort:
This Acapulco Two Seater Sofa is hand-woven with comfortable PVC cords with "memory", so that the seat forms itself your body and returns to its original shape after use. Spacious enough for 2-3 adults and suitable for outdoors. 
Materials:
This sofa is hand woven with recyclable PVC.
The PVC cords are resistant to direct sunlight, contain anti-oxidants and are free of phthalates. This not only ensures that the sofa is less harmful to our environment, but it also makes it suitable for years of use both indoors and outdoors!
Delivery: We ship to individuals or companies across the U.S.
Special conditions apply on orders of 10 or more sofas. Contact [email protected]
Maintenance:
Our Acapulco sofas have a guaranteed quality and durability thanks to the welded frame with galvanized coating and the seat made with hand-woven recycled PVC.
The sofas are therefore suitable for years of use both indoors and outdoors.
Clean your sofa with water and a little soap and dry it with a soft cloth.
Dimensions Sofa Acapulco : 43"/63"/39" (width/height/depth) 110x162x98cm
Weight Sofa Acapulco: 44 lbs (20kg)
Seat height Sofa Acapulco: 14" (35 cm)