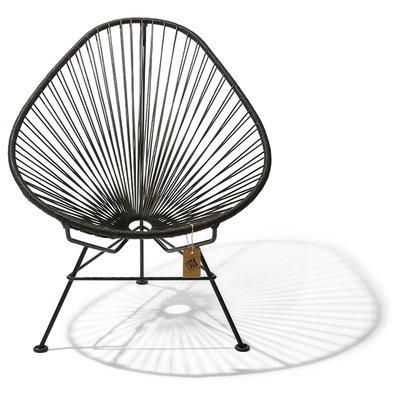 Acapulco Chair Black Leather Edition
Exclusive leather edition Acapulco chair, hand-woven in Mexico with black leather. ...
More information
Article number:

ACA/LN-N

Availability:

Can be ordered! Email us ([email protected]) for more information about the delivery time.

Delivery time:

email us please
---
*All prices are in USD
---
Materials: This Acapulco chair is made with black leather cords. 
Delivery: We ship to individuals or companies across the U.S.
Special conditions apply on orders of 10 or more chairs. Contact [email protected]
Maintenance: Our Acapulco chairs have a guaranteed quality and durability, because of the welded frame with galvanized solid steel structure with electrostatic coating and the seat made of high quality black leather.
It is important to apply a suitable leather oil for cleaning and proper hydration approximately once a year.
* Due to its natural origin the leather can present a difference of tone in the color as shown in the photo.
* This leather chair is only suitable for interior spaces.
Dimensions Acapulco: 30"/35"/42" (width/height/depth) 75/88/106cm
Weight Acapulco: 18 lbs (8,3kg)
Seat height Acapulco: 15" (37cm)